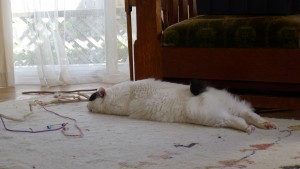 Starting a guitar effects company must rank up there with opening restaurants as one of the riskier of business ventures, well, before we head into the territory of loan sharks and bomb disposal (everything is relative). People often invent things to solve their own problems — in my case I'm looking to create sounds from a guitar for Barkhausen that can't be created by existing pedals (yes, I am doing this out of a fundamental need).
I've got quite a number of design ideas, just figuring out how to focus on one of them is a challenge. My plan is to initially produce an initial build of twenty pedals of a first design sometime in the first half of 2016.
I'll be blogging about the progress of my first pedal design over the coming months. I hope you'll tune in.
— Murray
PS. the pink box (the featured image above with sixteen knobs) is a modified 4ms Sweptoner I built over the winter. I added a PT2399-based echo (the white knobs) into the mix. Successfully tackling such a difficult build was one of the reasons I thought about doing my own thing. I'll cover building the Sweptoner in a future post…